I am skipping 10 Things Thursday today because I am officially claiming my overall big goal. I have been bouncing back and forth between 176 and 173 for about 1 week. Today is the second day the scale has been consistent at 173.9. My original goal was 175.
When I first was banded, 175 felt like a pipe dream. I did not believe that I would get here this quickly. But, as I have said before, this is not where I need to stop. Therefore, I am creating a new weight loss ticker for every 10 lbs. after 175. Somewhere around 155-160 will be perfect for me...or so I think.
One thing that I have learned along my journey is that it is good to be flexible. I really believe that is why I need to reevaluate my goals. I will know when the number is right for me.
Anyway, I took a picture just to have concrete evidence of the number that my scale said today.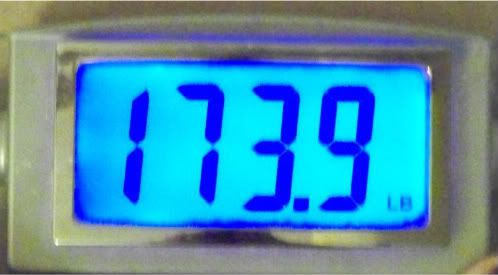 Usually I am full of funny comments, but not today. Today is kind of sacred for me. Sacred and surreal.