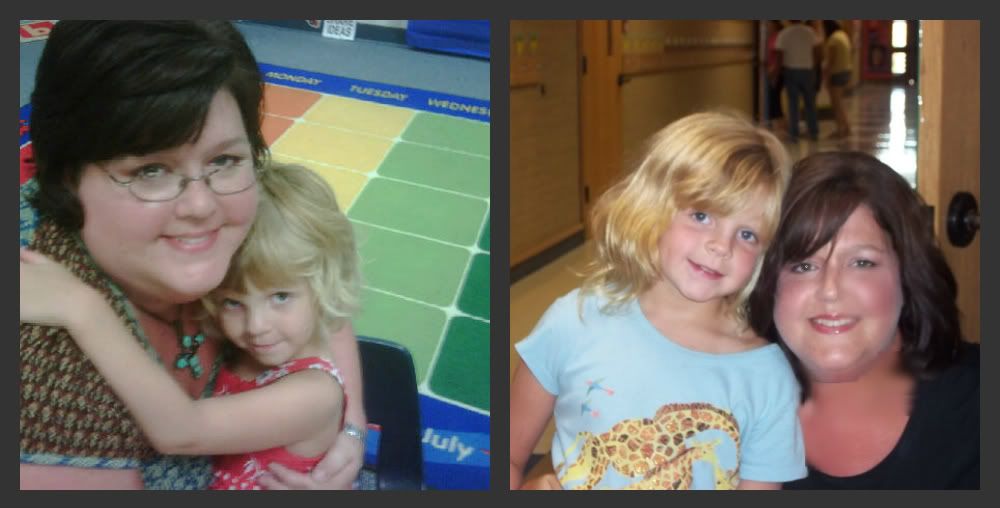 The photo on the left was taken at meet the teacher 2 yrs ago. The photo on the right was taken tonight, two years and 91 lbs. lighter.
It is easy for me to critique both pictures. But I won't.
Just the fact that I feel so much better about myself and life is proof enough for me that I am on the right track.
I think I shocked some people tonight. I wore a t-shirt that actually fit. And, I must say that I wore a push up bra that really highlighted that my chest is now larger than my stomach. A lot of people did not know about my weight loss journey. I even caught myself telling people (skinny minnies) that I did this through diet and exercise.
It is true. It seemed easier to not bring up the band with people who might criticize me or talk behind my back. Is it lying by omission? I don't know. I tell people all the time about my band. I tell strangers, friends, family, all of you in blog land.............but there are certain kinds of people who are just critical about everything. I guess I wasn't ready to tackle those critics just yet.
Anyway, I am proud I took my camera. Proud that I have a picture to remember tonight. Proud that I have worked my butt off (literally) so that my chest is larger than my stomach. Just proud.