Sorry I have been MIA for the last few days. We have had MAJOR computer issues. They are now resolved, thanks to the large satellite on my roof. Anyway....................
Let's play a little game. A game called "Then and Now". It is in honor of my bandiversary (this coming Thursday). Then being pre-band and now being, well post-band and 148 lbs. lighter.
Without further ado..................
THEN: I weighed a whopping 318 lbs. NOW: I weigh 169.3 lbs.
THEN: I looked like this:
Now: I look like this: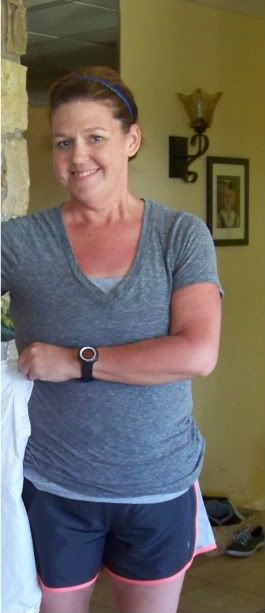 THEN: I wore a size 24W and 3X. NOW: I wear a 10 or 12 pants and a medium or large shirt.

THEN: I wore a 10 wide shoes. NOW: I wear a 9 1/2 shoes.
THEN: My ring size was a 10. NOW: My ring size is a 6.
THEN: My kids couldn't fit their arms around me when they hugged me. NOW: They can hug all the way around me.
THEN: I was on blood pressure medicine. NOW: I quit taking BP meds 3 months post-op.
THEN: I hurt. Everywhere. My knees, my feet, my hips. NOW: I live basically pain free.
THEN: I had NO energy. I had to nap everyday. NOW: Most days there is no way I could nap. Too much energy!
THEN: My clothes were worn for comfort only. NOW: The hubs may have to add a closet.
THEN: I drank about 12 of these bad boys a day...........

NOW: I drink at least 12 of these bad boys a day...........

THEN: I couldn't tie my own shoes without a struggle. NOW: I tie my shoes in the MIDDLE not on the SIDE.
THEN: Forget clipping your toe nails good. NOW: Clip my toe nails? No problem!
THEN: Chairs made me cringe. Booths were even worse. NOW: I fit in ANY chair or booth.
THEN: I knew two food groups: carbs and more carbs. NOW: I am TRYING to eat more whole foods.
THEN: I couldn't walk to my mailbox without breaking a sweat. NOW: 5 miles?! No problem.....is that all?
THEN: I avoided social situations. NOW: I am much better. Still don't love it....I am a home body...but I try!
THEN: NEVER had my picture taken. NOW: I LOVE the camera.
THEN: Ate way too much fast food. Here is the proof:
NOW: Avoid fast food. It is what made me fat.

THEN: Didn't know a portion size from a shoe size. NOW: Eat off a small salad plate.....and am full!

THEN: Had NO self-esteem. NOW: The hubs says I think very highly of myself. Haha!
THEN: Never took "ME" time. NOW: Turn my phone off until 10 a.m. That is when I am done working out.
THEN: Had no self control around food. NOW: Food has little power over me unless I have PMS. :)
THEN: Was sick all the time. NOW: Healthier than I have ever been.
THEN: High cholesterol. High triglycerides. NOW: Normal on ALL lab tests.
THEN: Sleep apnea. NOW: Sleep like I am dead to the world.

THEN: Avoided exercise. NOW: Crave exercise.
THEN: Sad about life. I felt defeated. NOW: I feel happy, strong and empowered.
So many things have changed in a year. I can not begin to tell you all of them. It has been an amazing year. I look forward to beginning my 40's (June 6th to be exact) in better shape than I was in my 30's.
This week will be full of reflection for me, as I count the days until my bandiversary.
To those of you who have been following my journey..........thank you! Without all the blogger support, there is no way I would have been so successful. It is your comments that keep me going when I feel I can not go further.
To those of you just beginning your journey..............if I can do this, so can you. I am just your average mommy, wife and friend. Anything is possible. Really. You can do it.
And to my friends and family.........my thanks is not enough. Without you, I would have never thought I was worth saving. I love you!